Finding the best swimsuit isn't a piece of cake, especially when you're bombarded with many online platforms that sell it. But you can do it by researching and considering some significant factors that you must look for in buying a swimsuit. 
Some one-size-fits-all swimsuits might tempt you but let's be honest, there's nothing like that, and it all depends on your preferences. Different brands offer different swimsuits such as one-pieces, board shorts, tankinis, bikinis, and more explicitly designed to cater to your diverse needs. 
Amongst all other factors, the fit and feel of your swimsuit matter the most, and luckily brands like Cupshe have size-inclusive options for you. With so many types of swimsuits available at Cupshe, you might wonder which one is the perfect choice for you.
Top 10 Best Selling Cupshe Swimsuit Reviews
Here are many top Cupshe swimsuits picks with their features and specifications so you can choose the one that suits you the best.
1. Hit Summer Stripe Bikini Set Review
Fabric:
80% chinlon, 20% Spandex
Lining: 
Pattern:
This Cupshe Swimsuit has an amazing strappy criss-cross back that is perfect for your beach trip. It has thin shoulder straps that perfectly support this top. And not just that, it comes with matching bottoms that fit well on your body and give the coverage you need. Though it has a criss-cross back, it doesn't poke your back, and its pullover fit is so comfortable. Its black and white stripes are very flattering and attract everyone's attention.
2. Marsala Twist High Waisted Bikini Review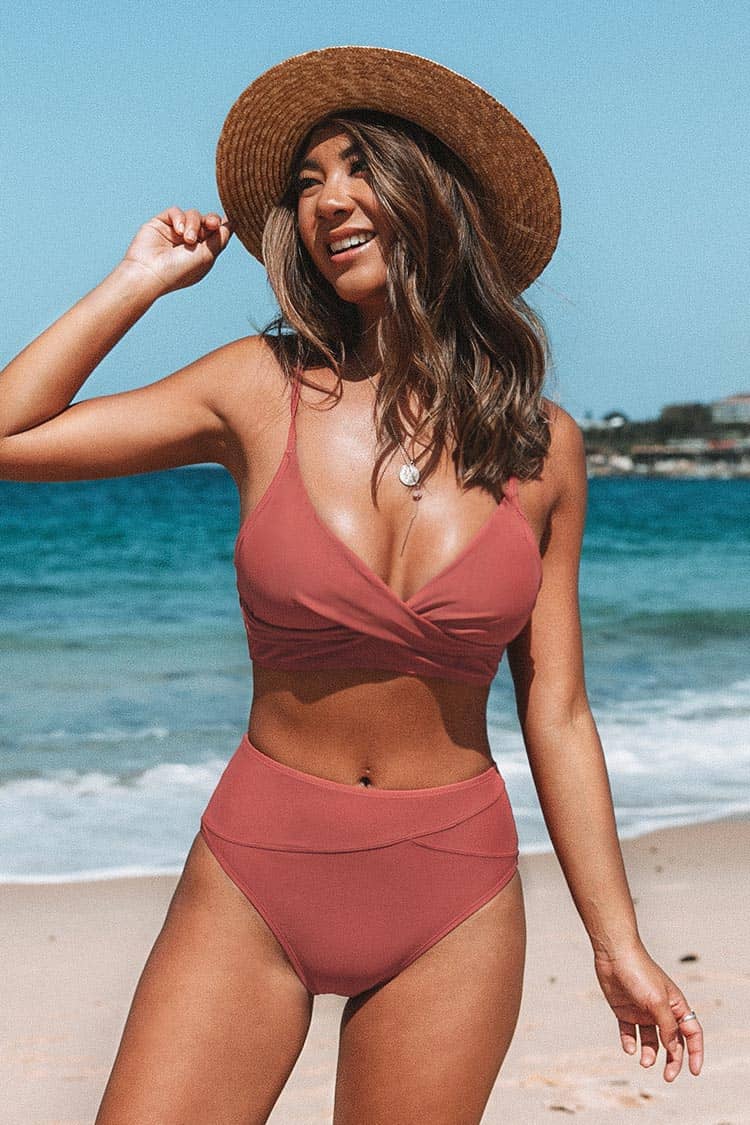 Fabric:
80% chinlon, 20% Spandex
Pattern:
As the name suggests, this bikini has a stylish twist at the front that enhances its appearance on a one-colored swimsuit. It is detailed with adjustable straps so you can adjust them to the perfect fit. Suppose you're a little conscious of revealing your lower belly. In that case, this swimsuit is ideal for you because its bottom is designed to be high-waisted, and it nicely covers up your lower belly.
3. Red and Floral Print Low Waisted Cupshe Bikini Review
Fabric:
80% chinlon, 20% Spandex
Lining:
Pattern:
If you're looking for a contrasting colored bikini, check out this article that gets the best cupshe swimsuit reviews. It comes in the list of best-selling swimsuits. And why it shouldn't. It has a fantastic color contrast with a red top and floral bottom print. With cross-cross back adjustable straps, a low waisted bottom, and the right amount of coverage, it certainly makes it one of the best bikinis to go for your next beach trip.
4. Cupshe Navy Floral Cutout Bikini Review
Fabric:
80% chinlon, 20% Spandex
Lining:
Pattern:
The Navy Floral Cutout Bikini has got one of the best cupshe bathing suit reviews. You would love it too because it has excellent fabric, style, color, fitting, and coverage. To make the cleavage more attractive, it has flirty straps at the center front that are revealing yet elegant. This bikini is great to show off your hard-earned curves. And of course, the print is simply superb that gives away the good beachy vibes. It is made of thick and stretchable material with sporty yet girly details.
5. Review of Cupshe Bright Day Shirring One Piece Swimsuit
Fabric:
80% chinlon, 20% Spandex
Lining:
Pattern:
With the subtle orange color to compliment all skin tones and maximum body coverage, this bikini article can be called one for all. Let's brighten up your summers with a gorgeous one-colored, one-piece bikini that is pretty flattering and can go on any body type. It sits perfectly on your body, and if not, you can easily adjust its straps for the perfect fit. And above all, it has a ruching in the front that makes it attractive and covers your belly fat in the most stylish way.
6. Review of Lasting Appeal Stripe One Piece Cupshe Swimsuit 
Fabric:
80% chinlon, 20% Spandex
Lining:
Pattern:
Black and white stripes are never out of trend, and when you have it on a bikini, which is more gorgeous than that. This one-piece swimsuit is on the top of cupshe reviews because of its elegance and classy design. It has criss-cross at the back and shoulder straps that give the perfect support and stay in the right place while you're bathing on the beach.
Get ready to embrace compliments on your next beach visit with a Lasting Appeal Stripe One-Piece Swimsuit that has a scoop neck that makes you look sexy yet covered. With the crisp colors, the right fit and coverage, and its thin horizontal stripes, it's the perfect beach partner for your next vacation.
7. Review of Cupshe Ruffle Bandeau Bikini With High Waisted Bottom
Fabric:
80% chinlon, 20% Spandex
Lining:
Pattern:
This bikini is named Ruffle Bandeau Bikini because of its rustle design on a solid printed bikini top. A gorgeous contrasting high-waisted bottom with stripes on it makes it a perfect swimsuit for your next beach vacation. Not only does it look cool, but it's incredibly comfortable too and gives excellent value for money. The ruffle design gives away summery vibes with a classy look.
8. Black Floral Print Halter Best Cupshe One Piece Swimsuit Review
Fabric:
80% chinlon, 20% Spandex
Lining:
Pattern:
This printed one-piece swimsuit is a definite choice for a summer trip to the beach. It has a cheeky cut on the tummy that's like icing on the cake, making this black swimsuit more vigorous, especially on the floral print. And talking about the fit and comfort, worry not. Anyone with any body size can easily adjust it with its self-tie halter design. The addition of fabric along the lower abdomen makes it more attractive. This swimsuit fits perfectly around the hips. With high-quality material, vibrant colors, and tie in the back, it's one of the best-selling bikinis. It has received the most positive cupshe bikini reviews on the website.
9. Beautiful World Print Cupshe One Piece Swimsuit Review
This swimsuit calls for a summer break or vacation. With its study material, pretty colors, and unique patterns, it must be a part of your summer beach wardrobe. 
This is best for swimming on the beach because its straps give a firm hold and stay up in the place. So you can wear it without the fear of slipping off or revealing anything more than you want. Though the material is of good quality and sturdy, it's not see-through.
10. Blue White and Black Striped Bikini Review
Fabric:
80% chinlon, 20% Spandex
Pattern:
If you want to go bold and bright, our Blue White and Black Striped Bikini set is the definite choice. It features a strappy back, cut-out top, and adjustable shoulder straps. It comes with matching bottoms having strappy sides that gorgeously compliments the top. The style, material, and fit make it the perfect bikini for your next beach trip.
Cupshe Plus Size Swimwear Review
Every woman needs to feel confident and sexy in her swimsuit. Cupshe has made that more accessible than ever with their unrivaled collection of cute and trendy swimwear. We all know that shopping for a swimsuit is not the most fun thing to do, so we made it our mission to find the best and most trustworthy swimsuit brand for women.
We found Cupshe at the forefront of the swimwear industry, providing swimsuits for everybody. You can be looking to buy bikinis, one-pieces, or tankinis. They are also one of the companies that make plus-size bathing suits perfect for curvier girls!
Cupshe created this plus-size swimsuit line that includes the perfect pieces for any occasion. From bikinis to one-pieces, Cupshe swimwear is available in sizes 0X-4X. Never lose out on the latest trends again!
You can check all the plus-size swimsuits on the Official Website or Amazon.
Is Cupshe Legit?
Yes, it is absolutely a legit website. Cupshe.com is a real company with genuine products and is known for a wide range of high-quality bikinis and swimwear. Cupshe.com has been a well-known company in business since 2014, founded by Mike Zhao. They have maintained an A+ rating on Trustpilot (consumer rating of 4.00 stars from 5,883 reviews).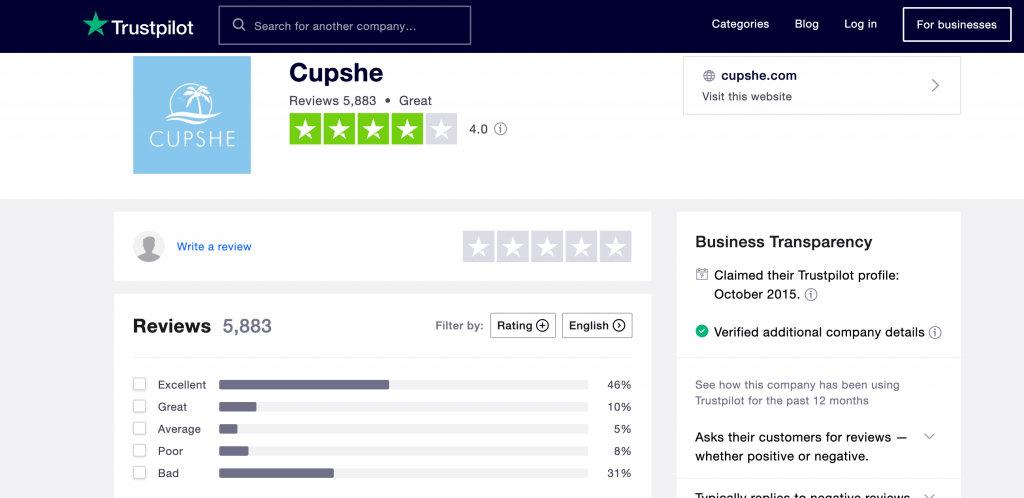 Cupshe also has an A+ rating (consumer rating of 4.36 stars from 1,068 reviews) on Sitejabber, which evaluates online businesses' trustworthiness, reputation, and performance. They have over 1 million followers on Facebook and Instagram.
Cupshe.com is the manufacturer of all their products themselves, so you know that they've gone through rigorous testing procedures to ensure their quality standards are met. 
How Long Does Cupshe Take to Deliver?
Answer: Once you place an order, it leaves our warehouse within 1 business day. After that, the expedited shipping takes around 5-7 business days, whereas express shipping takes 3-5 business days.
Where is Cupshe Located?
Answer: Cupshe is a U.S.-based company located in CA, California.
Why is Cupshe.com Bathing Suit So Cheap?
Answer: They are not cheap, but their prices are reasonable considering the quality of the materials used and their designs to their customers. One customer even said that "the dresses are just as nice as those in stores."
What Does It Mean, Get a Coupon or Refund for Cupshe?
Answer: It means when you want to replace some product, you can either take a coupon to buy anything else from the website or can ask for a refund.
How Does a Cupshe Bathing Suit Fit?
Answer: Cupshe bathing suits are available in different sizes to cater to your specific needs. Each size has been designed to fit perfectly on your body.
Wrapping Up: Cupshe Swimsuit Reviews
You are waiting for the summers to be a beach bombshell. From tummy-reducing exercises to different low-calorie diets, you try everything. But it all can go in vain if you don't get the right bikini. And that's why this blog post is written!
Hopefully, this guide will help you become the most swimsuit-wary gal that rules the beach this year. So fret not, and choose any swimsuit from the above list and take the lead!